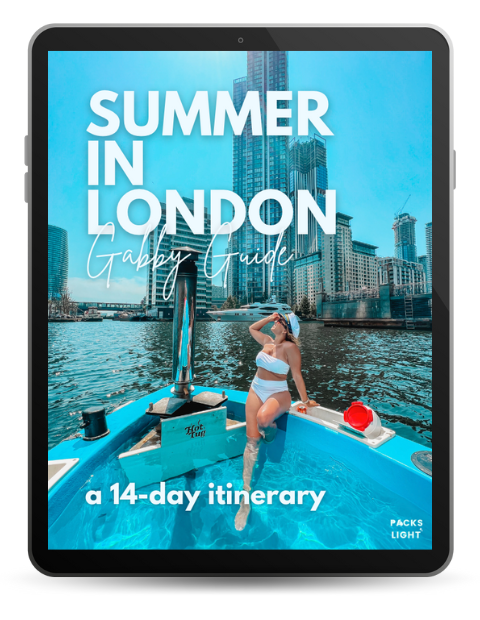 The Gabby Guide To: A Summer In London! is a 2-week, visual downloadable PDF for making your London trip! Full of good eats, outdoor adventures, plenty of relaxation, and lots of memories you won't forget.
This 23-page e-guide delves into my London recommendations from spending 3+ weeks in London during the summer– including tips on what to pack, how to get around, and where to stay.
Basically, everything I wish I knew before my trip, and everything I think I did right that made this trip so amazing!
DOWNLOADABLE PRINATBLE PDF | PHOTOS 📸| CLICKABLE LINKS 🔗 | EXTRA RESOURCES 📚 | 💸 MONEY BACK GUARANTEE


The Gabby Guide to Summer in London is a 2-week downloadable, printable PDF of all my personal insider travel tips for London. I answer FATQ (frequently asked travel questions) like...
🏩 Where did I stay? What neighborhood? Airbnb, hotel, home share?
🏙 What's London like? Is it safe? Fun?

🍽 What were the best restaurants? What did I order?
🎡 What are the must-see sites & can't-miss activities?
🍸 What are the hottest bars to go out to?
🧳 What do I recommend you pack for London in the summer?
☀️ What's the weather like in summer? WIll it rain on your trip?

🚆 What transport did I use to get around the city?

I actually visited London once before... and didn't like it 😬😅 But I decided to try again.
And, girl... I honestly think I did everything right this trip. Because this trip made me do a 180º and now London is one of my favorite cities in the world!

So I'm sharing all of the details with you: my full itinerary, day trip options, packing essentials, quick city facts, a travel mood board, and way way more 🇬🇧

*BONUS*: This e-itinerary is CLICKABLE! 👆🏽 There are updated links to my recommendations directly accessible from this book—no need to waste time Googling on your own. Simply click the colored text box or underlined word(s), and the link will open up in your browser.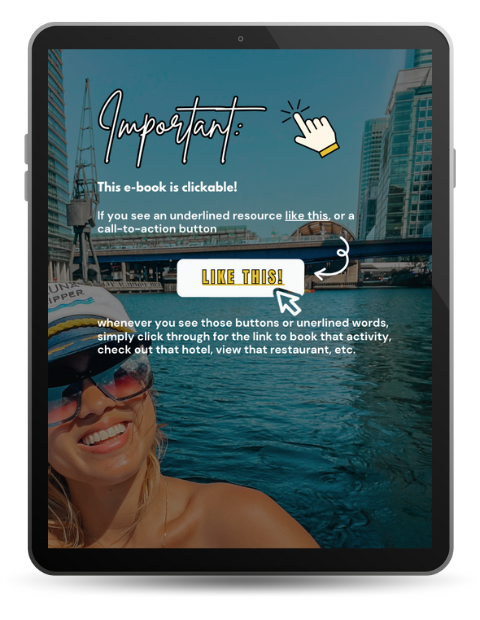 TABLE OF CONTENTS
How to Use this Ebook
About the City of London
Where to Stay?
What to Do? (14-Day Itinerary)
The Best London Day Trips
My Top Recommendations for...
Food
Activities
Packing
Helpful London Information
Trip Mood Board
Easy Access Activity List
Other Gabby Guides
✅ 20+ packed Gabby Guide pages
✅ 14 days and 50+ activity ideas, restaurant and bar recommendations, and day trip suggestions
✅ 1 girl who's going to have the time of her life in London this summer... YOU! 🇬🇧✈️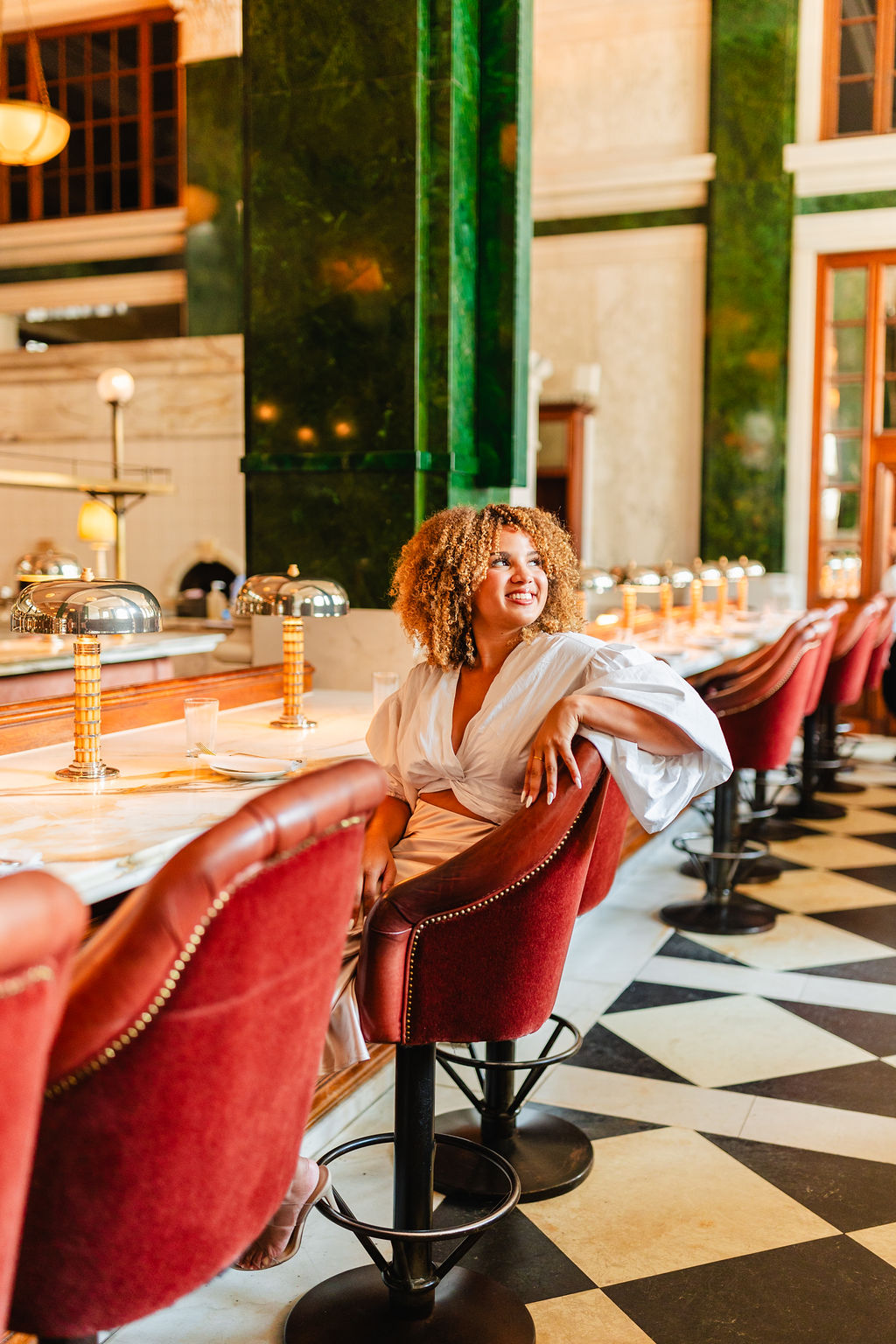 Hi, I'm Gabby 👋🏽 world travel expert and ebook author!

2013: 17, and all I wanted was to travel... I take all of my savings and impulsively book my first trip to Iceland 🇮🇸
2015: Sophomore year of college. Spring Break. Everyone goes to Miami, but I'm not so simple... I decided to visit London 🇬🇧 (in March 🥶)
2018: 24 y/o, working 9-5. I use my PTO to cross something off my bucket list... Driving to the airport at 4AM and book "the cheapest flight somewhere interesting" ended up in the U.S. Virgin Islands 🤪✈️ (see how much it cost here)
2020: Quit that engineering job to travel the world full-time... Pandemic 🥲
2021: Finally living the dream and leave home (the U.S.) not to return for an entire year. I solo-traveled and worked from France, Spain, Croatia, Mexico, Republic of Georgia, Turkey, Poland, Jordan, Cyprus, and more!
2023: Visited 50+ countries and 6 continents—80% of the trips have been solo.! I book all of my own travel: accomodations, activities, transport, etc.
I have multiple features in the New York Times, CNN Travel, Travel + Leisure, and more sharing my insights as a travel expert! 🏆
And now I share my travel tips and resources with aspiring womxn adventurers like you who just have a wanderlust to see the world!
And with this guide, I'm going to help you take London, UK 🇬🇧 by storm!